LOCAL FIRE DEPARTMENTS EXPAND LIFE-SAVING PROGRAM TO PREVENT FUTURE FIRE FATALITIES
Even before the most recent fire tragedies struck our region, fire departments across Kitsap County have been planning to make at least 1,000 local families safer from fire in 2014 with a free smoke alarm installation and home safety assessment program. Thanks to a federal grant and partnerships with service clubs and other community groups, fire departments hope to install more than 3,000 of the proven life-saving devices in local houses and apartments during the coming year. Special devices for the hearing-impaired will also be available.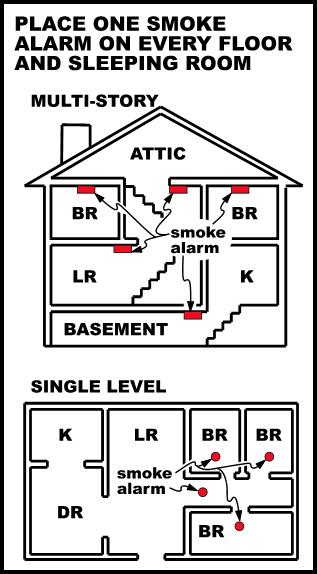 The Kitsap County Fire Chiefs Association, representing all six of the county's fire departments and the Kitsap County Fire Marshal's Office, teamed up with the Washington State Association of Fire Marshals to apply to the Federal Emergency Management Agency for the fire prevention and safety grant.
Across the United States, nearly 3,000 people lost their lives to fire in 2012, according to the National Fire Protection Association (NFPA). One of the most effective life-saving tools for early detection in a home fire is a working smoke alarm. The NFPA says that roughly 65% of all fire deaths occur in homes with missing or non-working smoke alarms.
The goal of the local grant program is to reduce the number of deaths and injuries in our county due to home fires. The focus is on installing smoke alarms in the homes of high risk families. Children under the age of 5 years-old, low income families, and people with disabilities have a much higher death rate in home fires than the general population.
The free smoke alarm installation program is available on Bainbridge Island now. The program includes a brief home safety assessment to identify potential fire hazards, education on how to prevent fires, and assistance in creating a home fire escape plan.

Almost two-thirds of home fire deaths resulted from fires in properties without working smoke alarms.
Between 2005 and 2009, smoke alarms were present in almost three-quarters (72%) of reported home fires and sounded in half (51%) of the home fires reported to U.S. fire departments. Homes include one- and two-family homes, apartments or other multi-family housing, and manufactured housing. More than one-third (38%) of home fire deaths resulted from fires in which no smoke alarms were present at all. One-quarter (24%) of the deaths were caused by fires in properties in which smoke alarms were present but failed to operate.
Test alarms at least monthly by pushing the test button.