11/1/2016
The time has finally arrived; the Bainbridge Island Fire Department has opened its north end Fire Station 23, 24/7!
On November 5, 2016 from 1:00 p.m. - 3:00 p.m. the Department hosted an Open House at Station 23 located at 12985 Phelps Road.
The full-time staffing of Fire Station 23 will reduce response times for approximately one third of the Island and will help provide a broader response across the Island. Statistics have shown that reduced response times increase chances of survival in cardiac arrest and reduce property loss in case of a fire. Station 23 responders will also be used to assist in emergency responses throughout the Island and to reduce our need for mutual aid from neighboring fire departments.
_____________________________________
11/16/2015
In February, voters approved a levy increase designed to improve fire and emergency services to our community. The Bainbridge Island Fire Department is taking steps towards the implementation of this service improvement, which will lead to the full-time staffing of Station 23 on Phelps Road in 2016. At a Badging Ceremony on November 11th, seven members were acknowledged.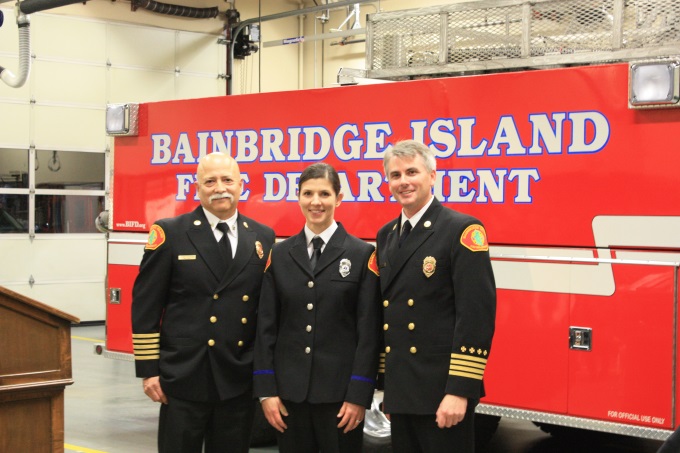 New Firefighter Paramedic Carol Mezen will be filling the current Paramedic vacancy. (L to R: Fire Chief Hank Teran, FF/PM Carol Mezen, Asst. Chief of Operations Jared Moravec)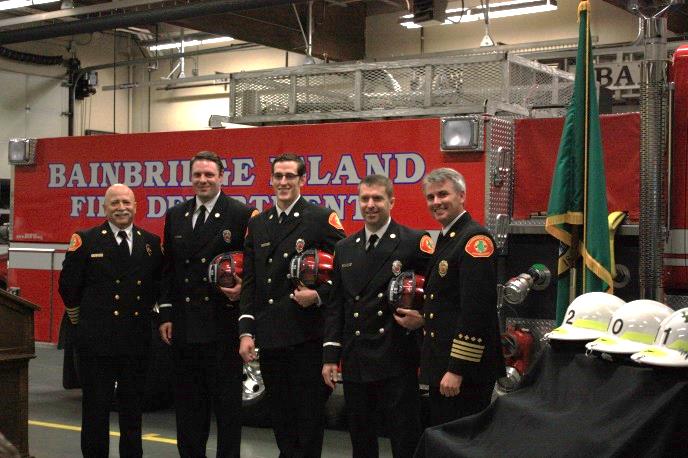 3 of our Firefighters were promoted to the position of Lieutenant. They will be responsible for supervising volunteer and career emergency responders as well as managing their assigned stations. (L to R: Fire Chief Hank Teran, Lt. Chris Johnston , Lt. Zach Bussard, Lt. Darrick Baker, Asst. Chief of Operations Jared Moravec)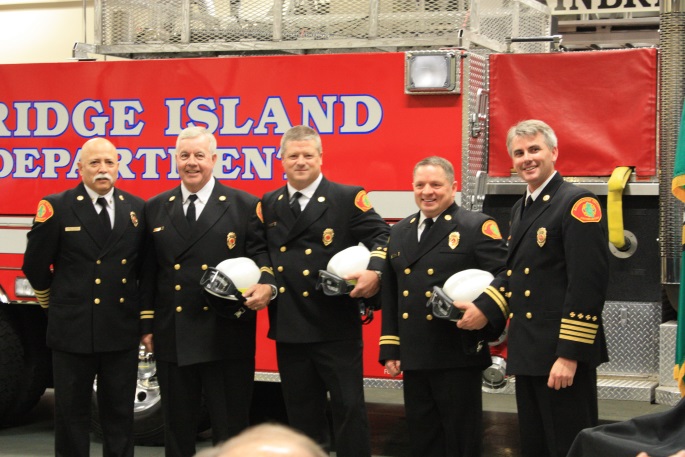 Former Captains of the Bainbridge Island Fire Department have been transitioned to the position of Battalion Chief. They will have increased supervisory and management responsibilities for the volunteer and career members of the Department, as well as oversight of the day-to-day operations of the Department. (L to R: Fire Chief Hank Teran, BC Dave Hannon , BC Greg Borgen, BC Dave Dilley, Asst. Chief of Operations Jared Moravec)